Patch Testing For Skin Allergies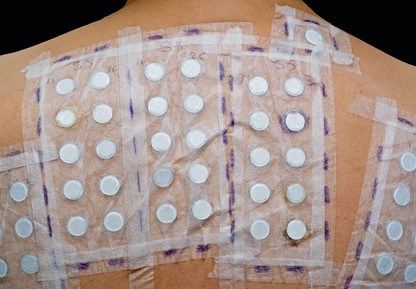 Patch testing for skin allergies is a process used to detect whether someone has allergic contact dermatitis to something they contact at work or home. During patch testing, small amounts of chemicals or things that are used at work or home are diluted and placed onto discs mounted on hypoallergenic tape and then placed on the back.
How many patches?
There are 10 chambers on each patch and those attending our clinic often have approximately 8 patches placed on their back, for a total of 80 possible allergens.
Why my back?
The back is used for patch testing because it has lots of room to put the patches. This also gives people the opportunity to have a bath, as the patches must be kept dry during the testing. Showers must be avoided for the length of the testing (Monday through to Friday after final appointment).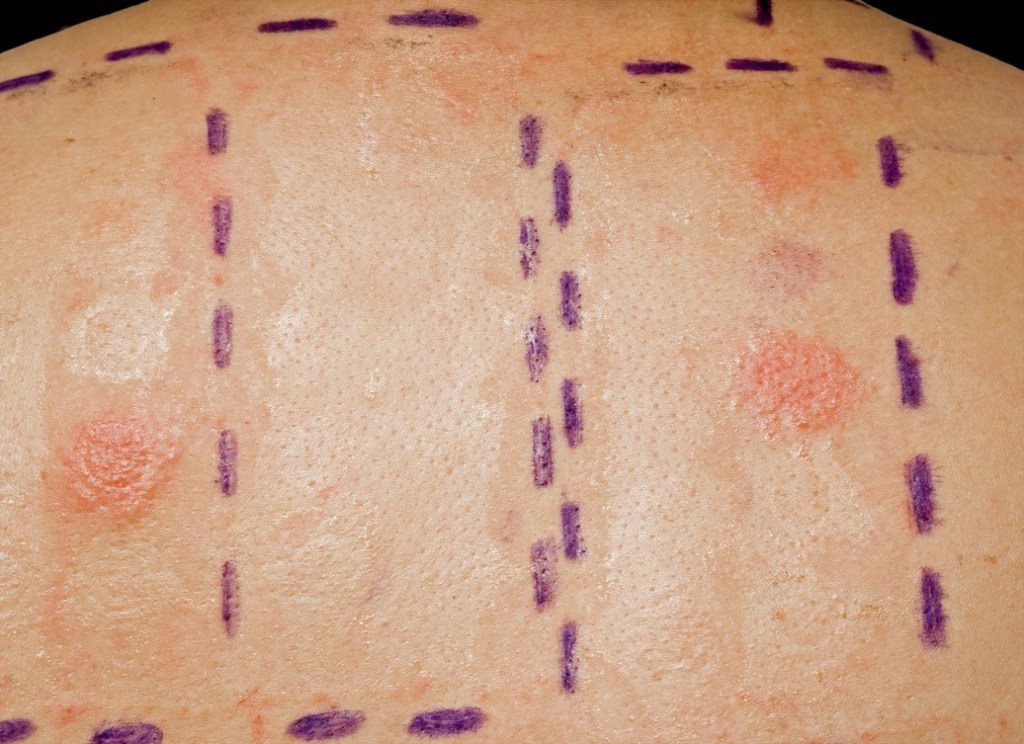 What does an allergic reaction look like?
Once the patches are taken off, the dermatologist looks for any red raised spots that may have appeared. These are normally smaller than a 10 cent coin and appear where the allergen was placed in its chamber. Sometimes people find these to be itchy.
Preparation for testing:
Shower the morning of the tests, as you cannot get your back wet from the time the patches go on until the time you see the dermatologist for your third appointment.
During testing, sweating must be avoided, as patches could sometimes fall off. So if you are working in a job where you get hot and sweaty, please call us for advice. Physical activity or playing sports during testing is also strongly discouraged.
Do not get your back exposed to sunlight for 5 days prior to testing. It is suggested that sunlight before testing may reduce the immune response in the skin.
Do not put any creams or oils on your back the morning of the testing.
Generally oral steroids (prednisone) should not be taken 48 hours before testing.
Antihistamine tablets should also be discontinued during patch testing. This includes over the counter and prescription antihistamines.
Men with hair on their backs should shave or wax it off a day or two before testing (do not use chemical hair removal products).
Appointments: Please plan to attend 3 appointments over a 5 day period.
Appointment 1 (Monday): Patients will have a consultation with the dermatologist, and the Medical Assistant will then make the patches up and stick them on to the back. This appointment may take up to one hour.
Appointment 2 (Wednesday): The patches are removed and the back will be looked at to see if there have been any allergic reactions or 'red spots' showing up where the patches were. Photos are taken to document the area of reaction.
Appointment 3 (Friday): The dermatologist will have another look at the back to see if there has been any other 'red spots' show up where the patches were. The dermatologist will then discuss results, management of your condition and skincare. You will need to allow 1 ½ hours for this appointment.